Whether you need a small shed to archive client documents or an expansive warehouse for your inventory, Post Frame Buildings can serve as the perfect solution. Before you buy, however, it's important to prioritize your needs and wants.
For example, consider the building location and local codes and regulations. Also, look for a builder with crews that work together to maximize productivity.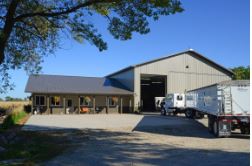 Post-frame construction is a cost-effective alternative to conventional building. The posts that support the structure are buried in the ground, eliminating the need for foundation work. This saves on material costs and labour. Additionally, the fact that posts are seated deep into the soil allows for a larger interior. The depth of the poles also transfers the force of wind and snow into the ground, protecting the buildings from damage and ensuring they will last for years.
Post-frame builders usually offer plans and the shell of a building for do-it-yourselfers, who can finish the interior with drywall or another type of insulation. The walls are insulated to keep the inside of the building warm and to prevent moisture from seeping into the drywall, which can cause rot and mould. A popular option is to use a steel liner package, which is energy-efficient and easier to maintain than drywall.
In addition to saving money on materials, post-frame buildings can be installed much faster than conventional construction. This is especially true if the builder uses pre-manufactured structural components, such as roof trusses, which require less time to install. Additionally, post-frame buildings don't rely on interior support walls, which again saves time and money on construction.
Finally, a post-frame building's clean design is ideal for an open floor plan and gives you the flexibility to add windows or doors wherever you want in your building. Depending on your needs, this may help you save even more by reducing the amount of energy you need to heat or cool your building. In short, a post-frame building is a great way to save on construction costs and energy bills.
Versatile
Post-frame buildings are a sturdy option for many different kinds of buildings. These structures are quick to assemble and offer large, open interior spaces unhindered by support walls. They are also easily adapted to suit multiple uses. This flexibility makes them ideal for agricultural, residential, and commercial projects. They are especially useful for constructing barns, sheds, and equestrian facilities.
Since the posts are sunk directly into the ground, fewer materials and craftsmen are needed, which allows the structure to be constructed more quickly than some other types of buildings. Moreover, the support beams are spaced further apart than in conventional framing. This provides plenty of space for ductwork, lighting, and insulation. Furthermore, a post frame's roof can be made to accommodate any type of roofing system. Their selection includes five metal panel profiles and a choice of 20 colours in 29- or 26-gauge thicknesses. The company also offers a wide selection of trim pieces, which make it easy to customize your pole barn.
Because post-frame buildings do not require a foundation in the form of a basement, they can be built on a variety of soil conditions. It is important to test the soil before building to ensure it can bear the weight of your building and any equipment or materials you may store inside.
Post-frame buildings are a great option for businesses that need warehouse space or for homeowners who need a garage or workshop. They are also an excellent solution for schools that need to expand their facilities with limited budgets. As the population of a school grows, a post-frame building can be a cost-effective way to improve the school's existing facilities.
Energy-Efficient
Post-frame buildings are known for their energy efficiency. This is because they have wide, open spaces that can be insulated more easily than stick-built structures. The posts are also spaced further apart than in stud-built construction. This allows for wider blankets of insulation, which reduces energy loss through the walls and ceilings. In addition, the wood structure has natural insulating properties, which reduce energy costs by keeping your building at the right temperature without overheating or cooling it.
This type of construction is ideal for agricultural, commercial, and industrial uses. In agriculture, it can be used for barns and arenas and for storing large equipment. In commercial use, it can be used for warehouses and other low-rise buildings. In addition to being less expensive, post-frame buildings are also faster to build than conventional buildings. This is because they don't require a concrete foundation, and they can be built in fewer days.
In addition to cost-effectiveness, post-frame buildings are also durable. They are able to withstand the most severe weather conditions, including strong winds. This is because the buried posts distribute wind forces evenly throughout the building, preventing them from lifting roof sections. This design also makes them easier to adapt to changing site conditions.
Post-frame buildings are incredibly versatile and can be used for almost any purpose. In fact, many people choose to use them as man caves where they can tinker on projects or relax and watch sports. They are also popular among people who want a more spacious living area for their family. Moreover, these buildings can be finished with any type of siding or exterior material. However, steel is a popular choice because it is durable and has an attractive look.
Durable
Post-frame buildings are known for their durability and versatility. They are great for agricultural and commercial uses, as well as storage buildings and cabins. Their durability is due to the way they transfer lateral forces to the ground through multiple columns instead of just one. This design can withstand extreme weather conditions such as heavy snow loads and winds, and it is also resistant to fire and pests.
Another feature that makes these structures durable is their large, open interior spaces. The posts and trusses create one structural unit, which means that you don't need internal load-bearing walls. This helps reduce your construction costs and allows you to build a larger building. This type of construction is especially useful in areas with harsh winters where the ground can freeze.
In addition to their durability, post-frame buildings are made with materials that require little maintenance. The wood is treated with a preservative, so it will resist damage from insects and fungi. The building's structure is also insulated, which keeps the inside of the building cool and warm during different seasons. In addition to this, the posts are spaced farther apart than studs, which allows for more energy-efficient insulation.
The foundation of a post-frame building can be either a concrete slab or a pier foundation. The latter option works better for buildings with heavy equipment, and it reduces the risk of ground freezing and cracking. Choosing the right foundation will help you avoid costly repairs in the future.
Another feature that makes a post-frame building durable is its ease of assembly. Since the parts are manufactured in a factory, you can save time and money on labour during the building process. These pre-engineered components will ensure that the building meets local codes and is built to last. Moreover, you can choose from a wide range of exterior finishes and doors to customize your building.
Easy to assemble
Post-frame buildings are simple and easy to assemble. Their design utilizes fewer materials, which allows builders to construct the building faster and more economically than other types of construction. This also makes them a great choice for building on tight sites. Furthermore, they offer a wide variety of options and features to suit your needs. For example, you can choose to add a steel roof and insulation to make the structure more energy-efficient. In addition, you can choose to use various doors and windows, which will allow for greater light and air circulation.
In addition, unlike concrete foundations, post-frame structures do not require footers that can heave and shift interior walls. This can be a major problem when constructing a home or living space and can lead to damage to drywall finishes and trim. Post-frame construction also eliminates the need for a concrete floor, which can be expensive and slow to install.
Another benefit of post-frame construction is that it can create a large clear span, making it possible to build larger buildings without requiring inside support walls. This flexibility is essential for many uses, including equestrian facilities and event arenas. Additionally, it is possible to construct open floor plans with post-frame construction.
If you are planning to use your building as a living space or home, it's important to consider the local building codes and regulations before starting construction. Most states have different requirements and restrictions regarding the size, type, and location of a building. In some cases, you may need a permit before starting your project. Having an experienced post-frame building builder on your team can help you navigate the process and ensure that your pole barn meets all local requirements.